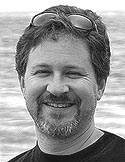 About GlassFacts.info
This website is written, edited and published by Paul Tarlow in support of the glass arts.
You can learn more about me here.
While I do my best to get the facts correct, I've made mistakes in the past and suspect I will make them again in the future. If you find one, please tell me (using the contact link on the left) so I can correct it for everyone's benefit.
Also, if you have suggestions for future topics please forward them to my editorial department (me).
If you would like me to link to your site (free), please see the link information.